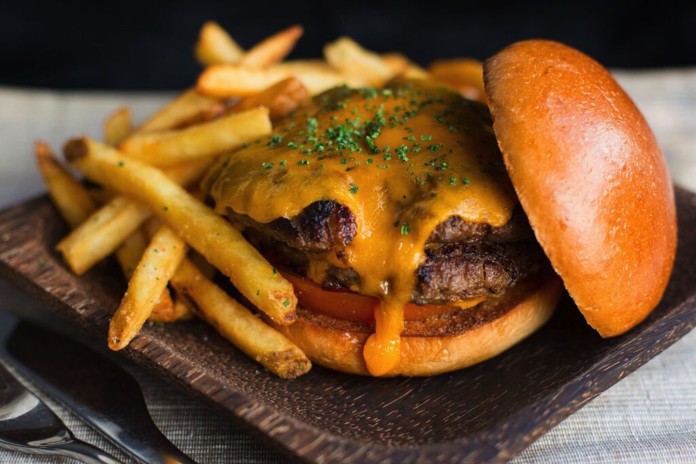 Where burgers were once little more than a patty, a slice of tomato and some lettuce haphazardly slapped together between two buns, we can now easily find high-quality, well-made burgers incorporating the use of unexpected ingredients in creative ways. It's certainly come a long way in the last decade, so here's to the burger.
#1: Glorified Hipster Fast Food from Pluck
#2: The Mega Stack from Mischief American Street Food
#3: Pork Rillettes Burger from CATO
CATO offers modern Asian cuisine, which means loads of funky hybrid dishes such as their Spicy Tom Yum Prawn Risotto and Clam Chowder Shooters (if that's not a first for you, we don't know what is). Their star dish, however, is their Pork Rillettes Burger, which features fresh arugula, a sunny side up egg, and spiced chilli sauce to complement the pork belly rillettes patty. Now that's perfection on a plate.
#4: OMG burger from Jewel Cafe and Bar
Located at Little India, Jewel Cafe and Bar is a hidden gem of a restaurant which serves top-notch coffee and even better burgers. You can't get better flavours than those found in their OMG burger, which is packed with a beef patty, crispy bacon, sunny side up, cheddar, and an indulgent, decadent slab of luncheon meat.
129 Rangoon Road , 218407
#5: Grilled Wagyu Beef Burger from Da Paolo Bistro Bar
Da Paolo might be a bit out of the way, but the relaxing atmosphere and all that lush greenery makes your extra travel time worth it. Order their Grilled Wagyu Beef Burger, which comes with homemade focaccia, parma ham, caramelized onions, brie, porcini mayonnaise, and of course, a devastatingly tender Wagyu beef patty. Take it from us – it's worth every single calorie.